Volunteer Teams
Group your volunteers into teams for easier organization. Assign Team Leaders so everyone knows who to report to.
Browser Based
Nothing to install or maintain. Works everywhere internet is available.
Volunteer Checklist
Volunteer names, photos, hours, status, one-click check-ins, schedule confirmations, benefit eligibility... everything you need to know in one convenient checklist.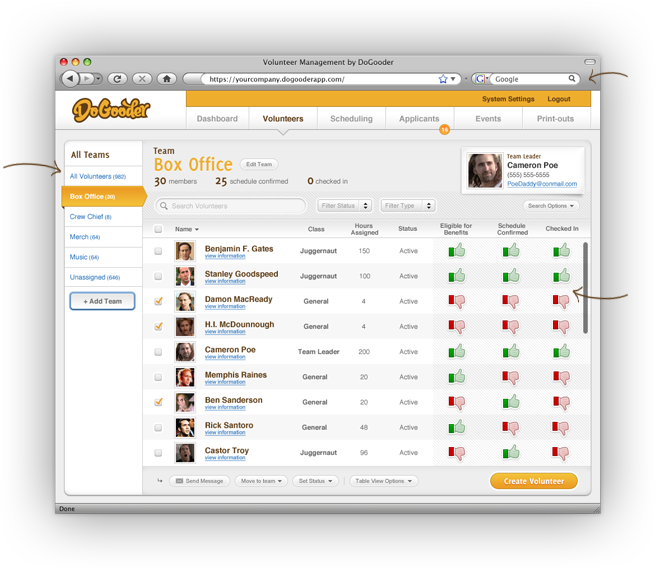 Ridiculously simple volunteer management for organizations big & small
HTML Emails, with Images
Unlike some other volunteer management solutions, DoGooder allows the creation of rich emails that include numbered lists, pictures, and any other modern email nicety.  Need more flexibility? Easily export to get your list into MailChimp or Constant Contact.
DoGooder also lets you save that email as a template, so you can use it again and again.
Total Assigned Hours Easily Viewed
How many hours is Joshua assigned to for the entire event?  Quickly see who is underloaded or overloaded before you assign them to another team.
Support Multiple Volunteer Levels
Most volunteers may be able to work 4 to 8 hours. Others will want to be available for the entire weekend at any time.
Shift Confirmation Emails