Volunteer Teams
Group your volunteers into teams for easier organization. Assign Team Leaders so everyone knows who to report to.
Browser Based
Nothing to install or maintain. Works everywhere internet is available.
Volunteer Checklist
Volunteer names, photos, hours, status, one-click check-ins, schedule confirmations, benefit eligibility... everything you need to know in one convenient checklist.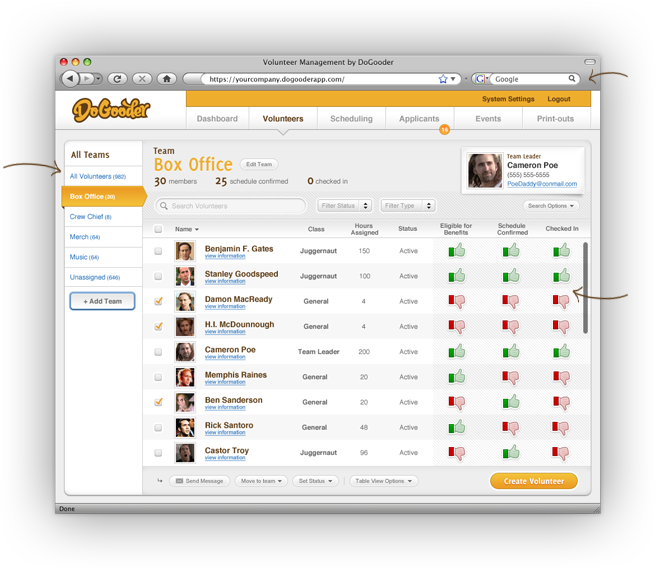 Ridiculously simple volunteer management for organizations big & small
Pre-Qualify or Pre-Disqualify Volunteers
Flexible logic allows the volunteer signup form itself to pre-qualify or eliminate applicants before they even hit the volunteer coordinator's inbox.
Applicant doesn't have a CDL?  They can't sign up to be on the shuttle bus team
Applicant is under 21? They can't serve on the booze team.
Applicant knows how to run a 35mm projector? You're on the projectionist team!
Email Templates
Save any message as a template and use it again and again.
Multiple Event Support
Hop between events easily.  No silly filtering by date to find the last event on a giant calendar that has most of the year blank.
Quickly invite volunteers from last year to signup for this year.
Map Volunteer Availability to Shifts in One Summary Screen
See a list of approved volunteers that are available or conflict with a specific team need.